Fall Firewise Facts

September is here and the leaves are beginning to fall! While we welcome the cooler temperatures and the beauty that is the autumn season in Montreat, we will also have a lot of dead leaves on the ground. Did you know that leaves are the #1 accelerant for wildfires? They are highly flammable and of course in Montreat they are everywhere! Please take care to remove the leaves and other yard debris from around your house. Also, be sure to report your work hours to Nancy Midgette ([email protected]). We want to be sure that we are eligible to have our FireWise status renewed!
By the way, if you spent time in the yard and garden over the summer, estimate your hours and send them to Nancy to help with our Firewise renewal.
---
Know Where to Find Emergency Numbers?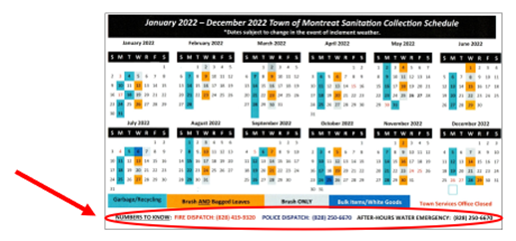 Do you know where to find emergency phone numbers if your water is discolored after hours, you need a police officer or the fire department? Look at the bottom of your Montreat 2022 Sanitation Calendar. All three emergency numbers are listed and should be kept in a handy, accessible location. It can save you precious time.
If you don't have the 2022 calendar, contact Town Clerk Angela Murphy at 828-669-8002 or email her at [email protected] for a copy.
---
Town Council Meeting September 8, at 7:00pm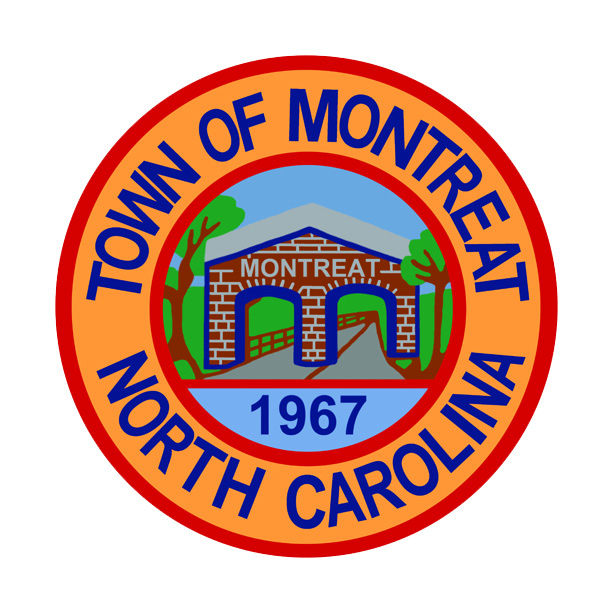 The Montreat Town Council will meet for its monthly meeting next Thursday, September 8 at 7:00pm in the Town Hall. For a copy of the agenda, CLICK HERE. The meeting will be live streamed and recorded. For information about streaming the meeting, CLICK HERE. The Public Forum will begin at 6:30pm. Everyone is invited.
---
Meet Morgan Bocanegra, Montreat Police Officer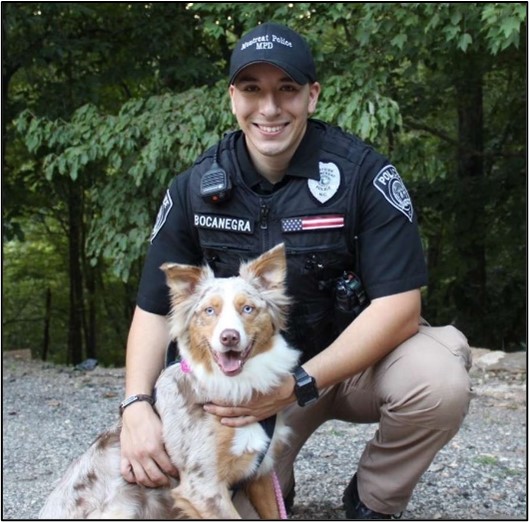 We regularly profile a Montreat Town staff member or Town Council member. This month we are featuring our newest Montreat Police Officer, Morgan Bocanegra.
Morgan and Rosie
You may have seen a new face on the Montreat Police force walking around Lake Susan, or sitting in his police car observing traffic, or even visiting with people in the Huckleberry. That new face is Morgan Bocanegra. And he loves his job.
Morgan was born and raised in Nebo, near Lake James. Growing up in that area, Morgan spent a great deal of time outdoors with his parents and his brother and sister fishing, camping, hiking and just enjoying being outside. While at McDowell High School, besides the normal high school curriculum, Morgan took as many classes as he could in woodworking and culinary skills. He still enjoys working with wood and experimenting with new recipes in the kitchen.
After graduation, he worked in a grocery store for several years, exploring job opportunities working outdoors. He had his sights set on being a park ranger and enrolled in the police academy. After a year of law enforcement training, he was given an opportunity to work in the McDowell County Sheriff's Office, first in the county jail, then as a patrol officer and a school resource officer. He enjoyed the patrol officer and school resource officer jobs because there was extensive interaction with the public. Morgan loves meeting and talking with people. He also used those "people" skills in the Black Mountain Police Department before coming to Montreat in April.
In the four months Morgan has been on the MPD, this job has become his favorite law enforcement experience. "I love Montreat," Morgan said. "I love getting out and having community relationships with people. I walk around Lake Susan and talk to people and I love the dogs!" Morgan's attitude about the people reflects his approach to law enforcement. He is here to protect, help and teach. He spends time explaining traffic and other Town rules to visitors so they are informed. "I not a 'tough guy' officer," Morgan stated. "I'm there for you in your time of need. I'm here to be a peacemaker, to keep Montreat a safe place, to deter crime." Morgan's presence and visibility certainly advance this policing philosophy.
When Morgan isn't working his 12 hour day shift, he still loves to spend time outdoors with his family and friends—and his Australian Shepherd, Rosie. He also spends time at the gym keeping in shape.
Next time you see Morgan walking around the lake or sitting in his patrol car, stop and say hello and let him know we are glad he's here.
---
Updates and Reminders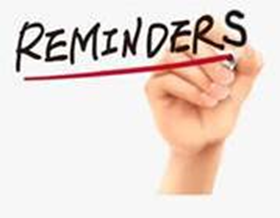 The Montreat town offices will be closed on Monday, September 5th in recognition of Labor Day. Sanitation services will resume on Tuesday, September 6th.
The Landcare Committee will meet on Wednesday, September 7th, at 9:00am in the Town Hall Community Room. Check the Landcare website for streaming instructions.
"Save the Date" for a great community event — Made in Montreat Craft Show and Sale.  It  returns this year on October 15, 2022, from 9am to 2pm at the lower level of Moore Center.  Seventeen local artisans will be selling a variety of crafts.  A good opportunity to shop for Christmas.
Questions?
Do you have Town-related questions you would like answered? If so, please send them to Angela Murphy at [email protected] and we will get back to you as soon as possible.
Have a great Labor Day weekend!!