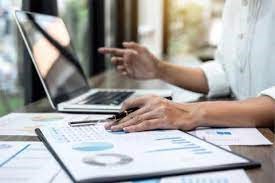 Town Ends Fiscal Year Strong
Our auditing firm presented the Town's 2022-2023 Annual Comprehensive Financial Report (our audit) at last week's Town Council meeting after submitting it to the NC Treasurer as required by law. It was an excellent report. The Town is in a very strong financial position. Revenues increased to $2.3 million from $2.2 the previous year. The Town's Fund Balance (savings) is $1.93 million, up from $1.4 million last year. The available fund balance, the amount not committed or restricted, is $947,000, an increase of $53,000 from last year. The Available Fund Balance represents 46% of the Town's budgeted expenditures, which is significantly above the Town's self-imposed fund balance policy of 35% and the State's mandated 8%.
In summarizing the audit, Levonia Reese of Carter Accounting lauded the Town for its strong financial position and stated, "This was the smoothest and best audit in our four year experience despite a new Financial Officer in place." Rachel Eddings, the Town's Financial Officer, lent her expertise and hard work to make the audit go smoothly.
The only downside in the audit report was a loss in the Water Fund, a separate business of the Town. Expenses exceeded revenues by approximately $20,000. Plans are in place to correct this situation.
The complete audit will be publicly available after the State has approved our submission.
---
Fire Ban Still in Effect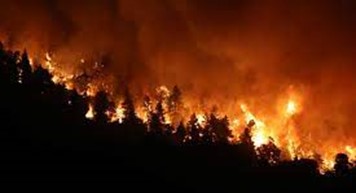 The burn ban of Nov. 6 is still in effect in Montreat and Buncombe County. Under the state of emergency, all outdoor burning is prohibited, including fire pits, campfires, tiki torches, and chimineas. Only the preparation of food using outdoor grills is allowed.
According to the National Fire Protection Association, research points to embers and small flames as the main way that most wildfires begin. Embers are burning pieces of airborne wood and/or vegetation that can be carried more than a mile through the wind, causing spot fires and igniting homes, vegetation, debris, and other objects. To learn how to protect your home, visit www.nfpa.org/firewise.
To report a fire or illegal burn, call 911. For more information on the emergency declaration, go to www.buncombecounty.org. And, as you clean up your property to help prevent wildfires, remember to report your hours to Nancy Midgette for the Town's Firewise certification. Contact Nancy at [email protected].
---
Large "Christmas Tree" Donated by Residents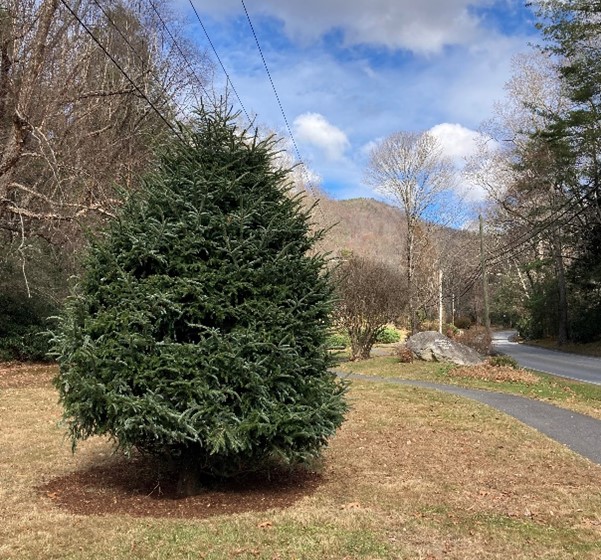 It's hard to miss the new "Christmas Tree" as you come through the gate. The 15' tall Frazier fir was planted recently in the green space on the left as you come through the gate.
The tree is a wonderful example of Montreaters working together to achieve a purpose. A group of residents donated funds for the tree, which came from a tree farm near Grandfather Mountain. MRA gave the space for the tree, and Town Public Works staff planted the tree. It was not an easy task, as the large tree had a 4' root ball. It required a back hoe to dig the hole.
The plan is to bring power over to the tree so lights can be added to bring Christmas cheer to our entrance.
---
Meet Grant Dasher, Town Commissioner
We regularly profile a Montreat Town staff member or Town Council member. This month we are featuring Grant Dasher, recently seated Town Commissioner.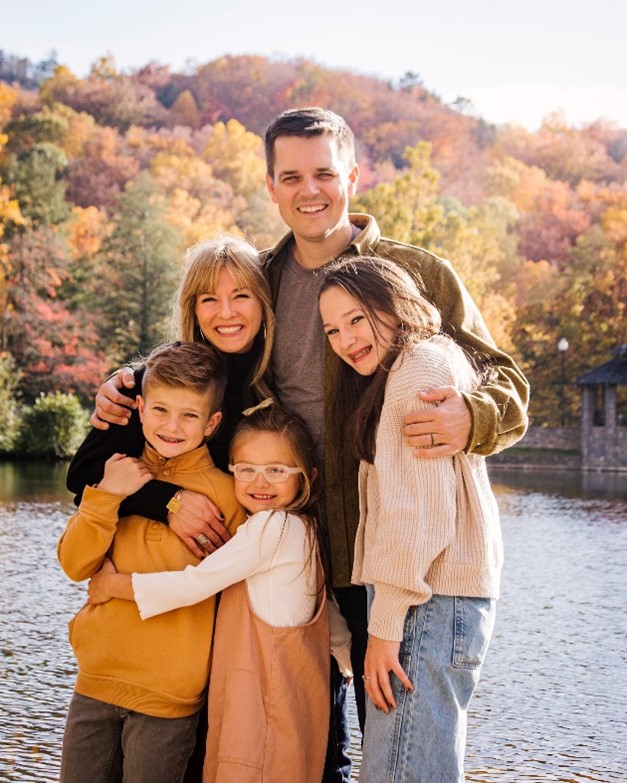 Clockwise from top, Grant, Van (12), Ali (6), Cohen (9) and Jessica.
Grant Dasher is not only the Town's newest Commissioner, but also a great family man. Grant was appointed at the October meeting to assume the Commissioner seat vacated by Kent Otto, who resigned at the September meeting.
Grant grew up in a farming community in north Florida. As he says, "There were more cows than people!". His parents were both teachers, and his dad was also pastor of a local church. He spent much time outside with his siblings, which carries over to this day. After high school, he took off to Arkansas to attend Harding University, where he met his future wife, Jessica. They were married after graduation. After a brief career in medical device sales, Grant returned to school at the University of Arkansas in Little Rock, then on to dental school at the University of Tennessee in Memphis. After graduating, he practiced for four years in Memphis. By that time, he and Jessica had a family, with Van, Cohen and Alli running around the house.
They were not satisfied with Memphis- they did not think it was a favorable place to raise children, They began talking with Grant's family, and everyone decided to move to western North Carolina, including his parents, his brother, and his sister. Everyone is here now, from Old Fort to Asheville. Grant and Jessica moved to Asheville initially, where Grant bought into a dental practice. In fact, it is the oldest dental practice in Asheville, established in 1908.
After living in Asheville for a year, they began looking for a community that was truly "kid friendly", where they could raise their children. When they found Montreat, they knew they had found their new home. In commenting on settling in Montreat, Grant said, "God directs us where He wants us, and I feel blessed to have landed where we did." They moved into the former Boyd house on Virginia Road, and have been renovating it for the past few years- that is, when they are not out enjoying family activities. They love to camp, backpack, hike and fish. Jessica is a trail runner and loves the Montreat trails. They are a very musical family as well. Grant plays the guitar and banjo, while Van plays the fiddle, Cohen plays the banjo, and little Ali plays the piano. "We fell in love first with the natural beauty of Montreat," said Grant. "But then we realized Montreat's 'gentle simplicity' allows us to feel totally at peace in raising our children." The Dasher family is deeply involved in their church and Grant coaches Cohen's basketball team.
Grant's interest in becoming involved in Town government started shortly after they moved to Montreat. In talking about the Town, Grant stated, "I want this place to continue to be a great place for people. And if you want it to stay great, you have to participate and be engaged." Engagement is an understatement for Grant. He and Jessica have been deeply involved in foster care, he has thrown himself into his business, and very dedicated in raising and educating his children. Now he is using that same level of energy and passion for the Town. "I've loved getting to know the Board and staff", Grant commented. "It is a group of close-knit people with a deep willingness to serve."
If you are walking down Virginia Road near Louisiana, you may see little Ali on her bike with their dog, Dolly. It's likely Grant is nearby, so take the time to introduce yourself.
---
Updates and Reminders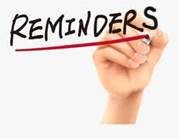 Town offices will be closed next Thursday and Friday in celebration of Thanksgiving. Trash pickup on Monday, Nov. 27, will not be affected. Of course, Police service will continue throughout the holidays.
Due to the Thanksgiving Holiday, there will be no Montreat Minute published next week.
The Town is transferring the water system billing to a new financial system next month. As a result, water bills will be delayed in December, but you will have the same time frame for payment.
The Montreat Tree Board will meet on Tuesday, November 28th, at 9:30 am in the Town Hall Community Room. The meeting will be live streamed and the public is invited to attend. See the Town website (www.townofmontreat.org) for details.
Do you receive your own copy of the Montreat Minute or know someone who doesn't? Sign up for the Sunshine List to receive the Montreat Minute and stay "in the know" about the Town's happenings. CLICK HERE to sign up for the list!

Questions or Comments?
Do you have Town-related questions or comments to offer? If so, please send them to Angela Murphy at [email protected] and we will get back to you as soon as possible.
Have a great weekend!