Montreat Minute 12/10/2021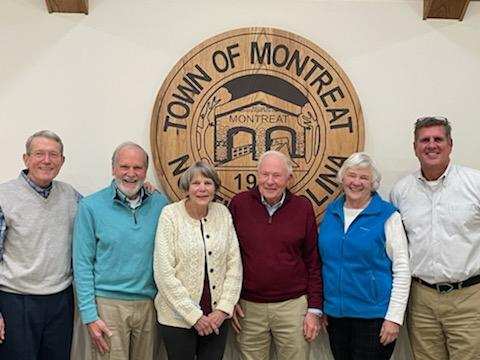 Mayor's Summary of the December 9, 2021 Town Council Meeting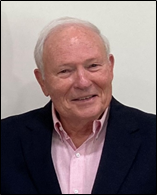 Merry Christmas Montreaters!
It seems like just a few days ago that we were eating Thanksgiving turkey, but now we've got Christmas just around the corner. I hope you have special plans for this most wonderful time of the year.
Approximately 20 people joined the Council in the Town Hall tonight for the Forum and Council meeting. Others were live streaming. If you missed it and want to see the recording, CLICK HERE.
Here's a summary of the meeting. Remember you can read the complete, official summary in the minutes that will be published next month.
CLICK HERE to read the full meeting summary
Montreat Has a Permanent Christmas Tree!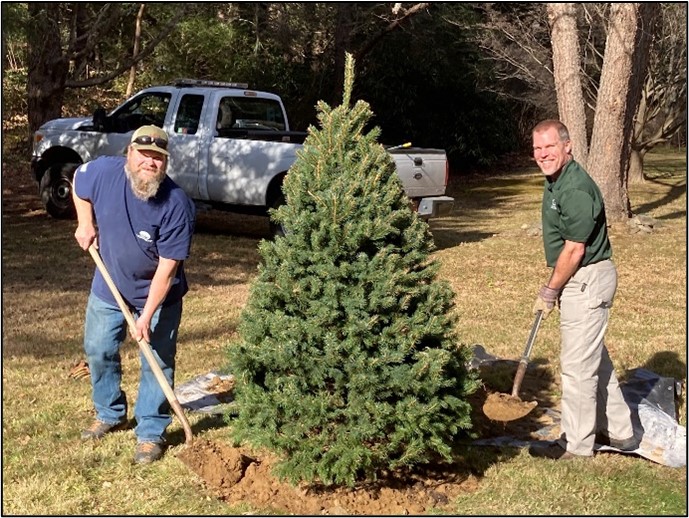 This week, thanks to collaborative efforts of Montreaters, the Town of Montreat, and the MRA, a blue spruce tree was planted in Pratt Park just inside the gate to serve as Montreat's official Christmas tree. Many thanks to Daniel Wiggs (on left in photo), master arborist with the Town's Public Works Department and John Quinzi (on right), MRA director of facilities, who helped find and plant a beautiful tree that will grow and become a new holiday tradition for us all to share. A group of Montreaters graciously donated funds to purchase the tree.
You are invited to string some popcorn and cranberries, make dried fruit ornaments, or create other adornments suitable for an outdoor tree to decorate this newly added evergreen. Our hope is that a new tradition will be born as, in future years, when families gather for Thanksgiving, they will spend some time together making decorations to add to the Montreat Community Christmas Tree.
Plans are being developed to decorate other areas of the Town. If you would like to be a part of this effort, please send your contribution to Seth Hagler, Montreat Conference Center, PO Box 969, Montreat, 28757 and note it is for Christmas decorations.
New Commissioner Elected and Installed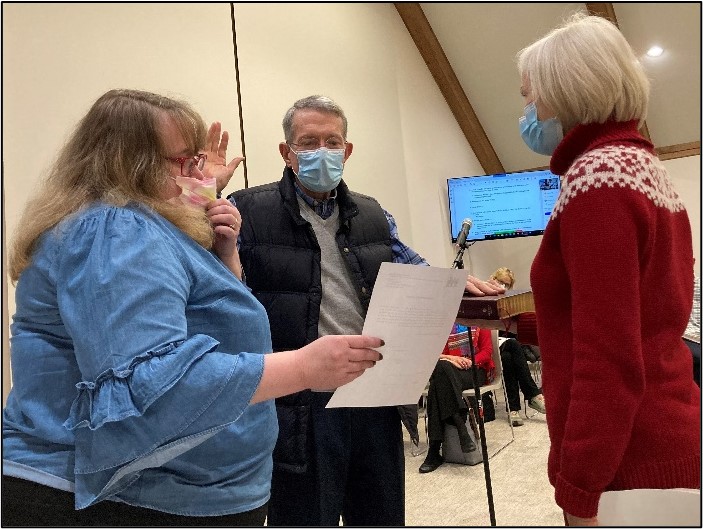 With the resignation of Commissioner Alice Lentz effective last night, the Council nominated and elected Mason Blake to fill Alice's unexpired term, which concludes in December 2022. Mason and his wife, Amy, have been permanent residents since 2016, although they have owned their Appalachian Terrace home since 2011 and have deep connections at Montreat.
The Blakes moved here from Melbourne Beach, Florida, when Mason retired from his law practice. However, Mason is far from being retired! Besides his work on the Council, he remains active in the work of the Planning & Zoning Commission, the Board of the Presbyterian Heritage Center where he serves as Chair of the Development Committee, and is active in his church. When (if!) he has spare time, he loves to spend it on the tennis court. Welcome Mason to the Council when you see him around town.
Volunteers Needed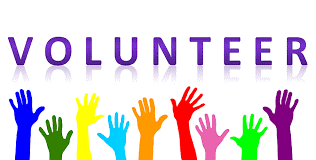 As the mayor mentioned in his meeting summary, there will be many vacancies on Town Boards and Committees as of January 31 as terms of current members expire. If you are interested in volunteering for the Board of Adjustment, Planning & Zoning Commission, Tree Board or the Open Space Conservation Committee, submit an electronic application by CLICKING HERE or drop by the Town Hall to pick up a form. We need your help!
Updates and Reminders
The Burn Ban established for the state still remains in effect here in Western North Carolina, although it has been lifted elsewhere. Please refrain from any outdoor fires, including patio fire pits until further notice.
And just a reminder that the mask mandate is still in effect in all interior buildings, private and public. Churches remain exempt from the mandate.
The Board of Adjustment will meet on Monday, December 13, to continue the hearing for a Special Use Permit (SUP). The meeting will be at 4:00pm in Graham Chapel. The public is invited to attend, but please no food or drink in the Chapel. It will also be live streamed. CLICK HERE for instructions. It is expected that the Board of Adjustments will meet again on Wednesday, December 15th, live stream instructions will be posted on the Town website.
The Board of Adjustment will meet again on Thursday, December 16, at 7:00pm at the Town Hall to consider a variance request unrelated to the current Special Use Permit hearing. The public is invited to attend and the meeting will be live streamed. CLICK HERE for instructions.
The Tree Board will not meet in December.
Town offices and services (except Police) will be off December 24 and 27 for the Christmas holiday. Sanitation services will resume on Tuesday, December 28.
The New Town Council
With the election and installation of Mason Blake last night, the Council has a new look. From left are Mason Blake, Tom Widmer, Jane Alexander, Tim Helms, Kitty Fouche and Kent Otto.
Questions?
Do you have Town-related questions you would like answered? If so, please send them to Angela Murphy at info@townofmontreat.org and we will get back to you as soon as possible.
Have a great weekend!