Montreat Minute June 25, 2021
Another Trash/Recycle Update- Pickup on Monday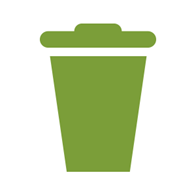 On the Town calendar that was sent in January, the printer made an error stating there would be no trash/recycle pickup on Monday, June 28. That was an error. There will be a trash/recycle pickup on Monday.
And as a reminder, If you have need to dispose of trash or recyclables at times other than Monday pick up, stop by the Town Hall and purchase specially printed green trash bags and blue recycle bags at $1.00 each. When you pick up the bags, you'll be told where you can dispose of them when filled, for which there is no additional charge.
---
Prepare for the "Gate Gait" Saturday, July 3
Put on your running shoes for the annual 4th of July (actually on the 3rd of July) 5K "Gate Gait." Meet at the gate on Saturday, July 3rd, for the 7:00am start. It's a "No" affair:
No Registration
No fee
No T-Shirt
Just come out and have a fun time. See you at the gate!
---
Volunteer Gardeners Needed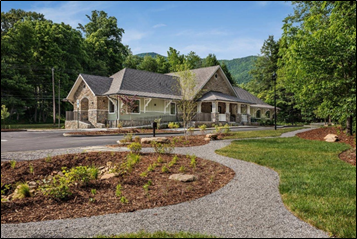 Last fall, Susan Holcomb organized a group of Montreaters to prune, weed, plant and maintain the new Town Hall landscaping. Called the "Gardeners of Weedin'", the group worked hard to weed, plant flower bulbs and decorate the outside of the Town Hall for harvest season and Christmas. We are very grateful to Susan along with her team of volunteers, including Cinci Aughinbaugh, Beth Casper, John Casper, Jacqueline Clark, Kitty Fouche, Meredith Greene, Katie Widmer and Peggy Williamson for their wonderful work.
Unfortunately (for us), the Holcombs left Montreat for warmer climates in Central America and the group has not been very active. The "Gardeners" could use some new leadership and additional volunteers. If you are interested in volunteering or learning more about the "Gardeners", please contact Katie Widmer at 828/357-5247 or katwid@icloud.com. Thanks for helping make the Town Hall gardens a special place for us.
---
Montreat Adult Summer Club Upcoming Activities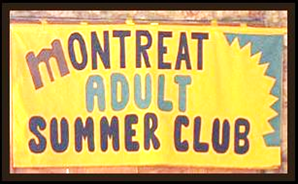 The Montreat Adult Summer Club will be offering some great programs on Wednesdays in July. Here's what's planned:
July 7: Will Graham will share about the legacy of his grandparents, Billy and Ruth Graham, and his life with them. He will tell stories as only Will can.
July 14: Ron Vinson, Executive Director of the Presbyterian Heritage Center and staff will talk about Montreat's very early and interesting years from 1897 until 1917.
July 21: Former astronaut and Montreat's own John Casper will offer a "Space Flight Update", touching on his experience as a Shuttle Commander and giving us an exciting update on the current state of human space flight.
All programs will be in Graham Chapel at Gaither beginning at 2:30. The programs will be followed by refreshments and fellowship.
---
Meet Andrew "Drew" Brown, Public Works Sanitation Department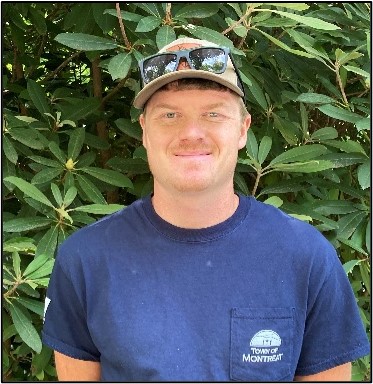 Each month we feature a Montreat Town staff member or Town Council member. This month we are featuring Utility Worker Drew Brown.
When Drew Brown heard about the sanitation worker job available when Bill Creasman was retiring, there was little hesitation in his applying for it. Drew grew up about three miles from Montreat, on a family farm on North Fork Road. Anyone who has driven out North Fork has seen the farm- it's 400 acres of cattle and horse grazing as well as crops. As a child, Drew used to come to Montreat to play in the park and creek, and he knew Montreat was a great place. He interviewed and was offered a position with a start date of mid-April of this year.
Drew came to us from a job doing farm work. It wasn't the family farm; it was a friend (former BM Mayor Don Collins) who has a number of small acreage farms in the area. Drew worked for Don for seven years, doing everything that needed to be done on a farm. He says his years working on the family farm and Don's farms were excellent experience for his current position. Drew is responsible for our sanitation services. He picks up trash and recycleables on Monday and brush and leaves on Wednesday. It is a grueling job, especially during the popular seasons here. He has two helpers from William's Place, a recovery center in Black Mountain, and the three go all day long. "Last Monday we worked from 8:00am to 7:00pm picking up trash", Drew said. "No breaks, we just kept going."
Every Wednesday he picks up brush with the chipper and truck, and every other Wednesday he also picks up leaves in the compostable bags. The other two days (the Public Works team works four- ten hour days) he works with the Public Works team doing everything from fixing fences to maintaining roads. Last week he graded and spread gravel on Tennessee Road Extension. And with his mechanical abilities, he's a great help in fixing and maintaining the department's equipment. Drew loves his job after only two months. "Montreat is a great community, it's a great atmosphere," Drew offered. "Everyone stops and says thanks, that they appreciate my work. That stuff goes a long way. It makes you feel good about your work."
When he's not working, Drew lives on the family farm with his wife, Taylor, and their Australian Shepherd, Billie. He and Taylor were high school sweethearts, and they dated for seven years before they got married two years ago. They love to spend time outdoors- camping, hiking, playing in the river behind the farm with Billie. And when they have the time, they love to travel, having taken in places like New York City, Mexico, Colorado and the beach. But his passion is woodworking. He makes furniture. In fact, he built all the furniture in their house!
We are thankful Drew left the farm to come work for the Town. When you see him around Montreat driving the trash truck, stop him and say "thanks" for a job well done.
---
Updates and Reminders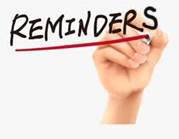 The summer bulk pickup will occur on Tuesday, July 6. Simply place your bulk items at curbside for this free service from the Town. There will be a $5 charge per item for mattresses and box springs. No hazardous materials such as paint and oil will be picked up. Another pick up will occur October 26.
The Town Hall offices will be closed on Friday, July 2, in observation of the July 4th holiday. Monday, July 5 trash pickup will occur as normal.
---
Questions?
Do you have Town-related questions you would like answered? If so, please send them to Angela Murphy at info@townofmontreat.org and we will get back to you as soon as possible.
Stay well and have a great weekend