Special Montreat Minute June 14, 2021
Two Special Messages of Importance
Signs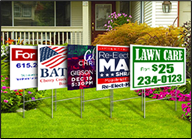 Please be aware that although yard signs are permitted, they must be placed on the cottager's own property and not in the Town right-of-way. This applies to all types of signs including for sale signs, political signs, event signs, protest signs, announcements and others. We have recently noticed a large number of signs in the right-of-way. Please move them off the right-of-way and onto private property.
To determine boundaries of the right-of-way, as a general rule of thumb the right-of-way is 30 feet from the middle of the road toward your house. For a more detailed determination, CLICK HERE for a map of Town right-of ways.
Additionally, this applies to private parking signs cottagers have put up to reserve on-street parking in front of/near their homes. No parking spaces on town right-of-way property can be reserved. We ask those cottagers with such signs to please remove them.
---
Bears

'Tis the season for bears in Montreat. They seem to be more prolific than ever and have been seen frequently during the day. One of the reasons for their activity is they are hungry. All the nuts (one of their favorite foods) from last fall are gone and berries (another of their favorite foods) won't be ripe until next month. So, they are scrounging for food, bringing them down from the mountains and into civilization to see what they can find.
Please take precautions with them:
NEVER feed a bear
Keep your trash in a bear proof container. If you don't have a bear proof container, keep trash and recycle indoors until Monday morning trash pick up
Remove bird feeders during this time of year. They love sunflower seed, suet and other fatty seed.
Don't leave pet food outdoors
Clean and store your grill after each use
Don't run if you encounter a bear. Act "BIG" by waving your arms and yelling.
Alert your neighbors if you see a bear in your neighborhood
For more tips and information on bears, click BEARWISE.