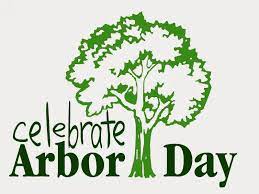 Montreat Minute for April 30, 2021
Arbor Day is April 30th – Today!
National Arbor Day is today, April 30th. The Montreat Tree Board will be celebrating Arbor Day later in the year with an event or two in Montreat, as pandemic constraints on gatherings are lifted. Various ideas are in the works, so stay tuned for details on events to be set between July and October.
WLOS Features on Re-Introducing the American Chestnut in the Montreat Cove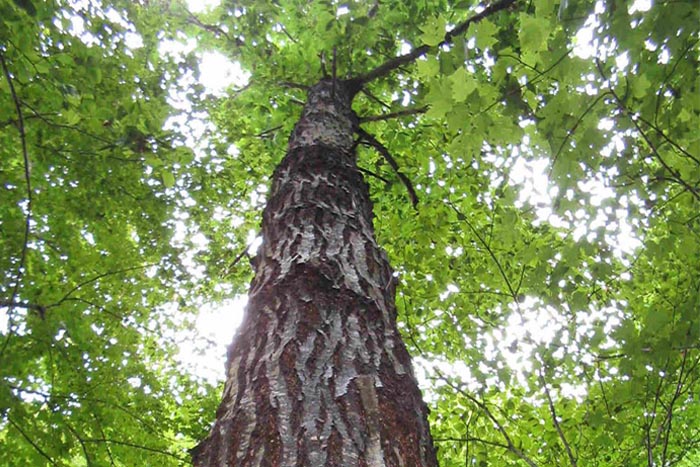 Just wanted to get the word out about a WLOS story scheduled to run at 5:50 p.m. on Friday, April 30, regarding Montreat's various efforts to re-introduce the American Chestnut into the cove. Representatives from the Forest Service, The American Chestnut Foundation, Dr. Dottie Shuman with Montreat College, and Ann Vinson, Chair of the Town's Tree Board, have all been interviewed. The story will be posted to WLOS.com after 7:00 p.m. on April 30.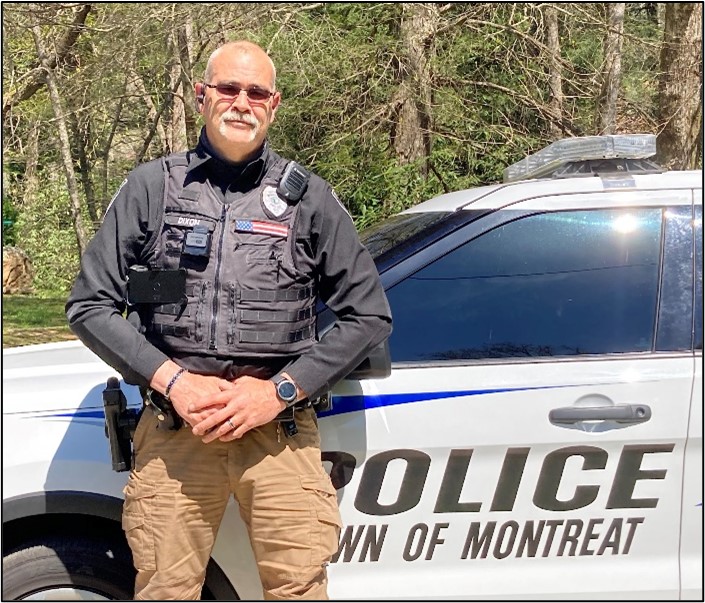 Meet Michael "Mike" Dixon, Montreat Police Department
Each month we feature a Montreat Town staff member or Town Council member. This month we are featuring Montreat Police Officer Mike Dixon.
Everyone knows that if you have a job to be done, ask someone who is already busy. Montreat Police Officer Mike Dixon fills that description. For the last seven years, Mike has held down two full time jobs! Part of it is because he always wants to stay busy. But the other part is he loves law enforcement and helping people.
Mike was born and raised in Springfield, Ohio. After finishing school and working construction, he decided to move south to be close to his girlfriend. Thirty years later, and thirty years of marriage to that "girlfriend", Mike is happy to be in Western North Carolina.
After settling in the Asheville area, Mike started working at the Swannanoa Valley Youth Development Center, supervising at-risk juvenile boys. The facility is a training school for youth aged 12-17 and typically those who have been in trouble with the law but are too young to be incarcerated. In his job, Mike supervised 16 boys, ensuring they were studying and going to school as well as counseling and goal setting with them. Enjoying working with adolescents, Mike then went on to be a Program Manager at the Buncombe Juvenile Detention Center in Asheville, working with youth awaiting sentencing. While there, Mike began the Basic Law Enforcement Training program- the precursor to becoming a law enforcement officer. The course is typically one year long, but Mike completed it in three months while working full time at the detention center. After graduation, he began work for the NC Department of Health and Human Services as a police officer for the state owned health facilities. In fact, he continued to work at the detention center, but as a police officer. And, true to his "busy" lifestyle, Mike also began working full time as a deputy for the Buncombe County Sheriff's office. He retired from the Department of Health and Human Services in the fall, only to turn around and accept the job as a Montreat patrol officer- full time! No grass will grow under Mike's feet!
Why work two full time jobs in law enforcement? "I love to help", said Mike. "I like being a part of the community, being visible and helping people out." What about the significant difference in county law enforcement and Montreat law enforcement? "I love both jobs. They are both community based but very different from one another," Mike offered. The paces of the two jobs balance each other out. In the Sheriff's department, Mike's work is largely interventional- responding to a variety of calls. At Montreat, he becomes involved in the community, giving confidence to people because they know Mike and the other officers are here for them. "Visibility is the key", Mike said. "We want people to know we're here- both the residents and visitors. And meeting nice people here is one of the best parts."
During his off time (which isn't much!), Mike enjoys spending time with his wife, Nancy, his stepdaughter and his two grandchildren EmmaLynn (9) and Tripp (4). They love to pile the family in the camper and go fishing, hunting, camping and just be together. Mike says a perfect day is "just hanging out with friends and family- sitting by the fire and making S'mores." If that sounds too low key for a guy like Mike, don't worry, he has had a stint at car and motorcycle drag racing!
What does Mike want Montreaters to know about him? "I'm here to help. I look forward to being at Montreat. If I can help, I will." We're glad you're here, Mike.
Goodbye and Thank You, Bill! Welcome Drew!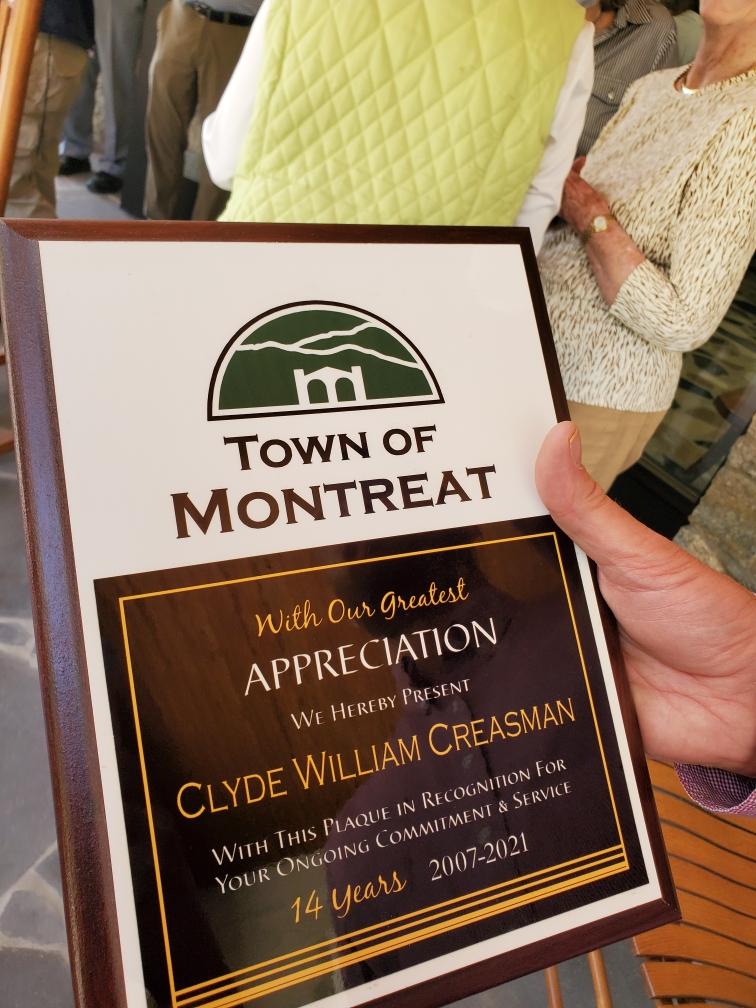 Roughly 60 Montreat community members participated in the drive-by/walk-by celebration for Bill Creasman on April 27 at the Town Hall. It was a beautiful afternoon, where folks of all ages shared their thanks and thoughts about Bill's service to the community. Town Administrator Carmichael presented a plaque to Bill recognizing BIll's service.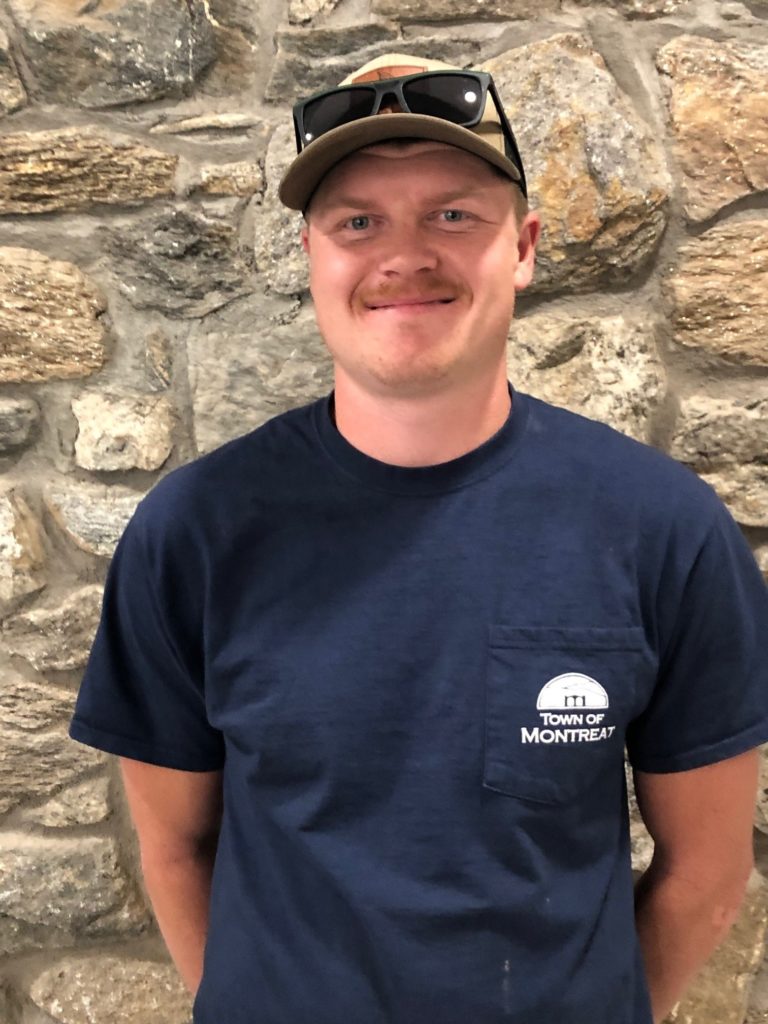 Andrew "Drew" Brown has joined the Town of Montreat staff as Bill's successor. Please welcome Drew, when you see him!
Free, Walk-In COVID-19 Vaccinations Now Available at Buncombe County Vaccination Clinic
Buncombe County Health and Human Services is now offering free, walk-in COVID-19 vaccinations at the Buncombe County vaccination clinic located on the campus of A-B Tech. The Pfizer COVID-19 vaccine is available to everyone 16 years of age and older at the A-B Tech location. The clinic is open Monday, Wednesday, Thursday and Friday from 9 a.m. to 4 p.m.
Mission Health/A-B Tech Conference Center
16 Fernhurst Dr.
Asheville, NC 28801
Updates and Reminders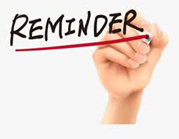 Open Space Conservation Committee meeting, May 11, 2021, 3:30 p.m. at Town Hall
Planning & Zoning Commission Meeting, May 13, 2021, 10:30 a.m. by Zoom and limited participation in Town Hall
Montreat Board of Commissioners Meeting, May 13, 2021, 7:00 p.m. by Zoom and limited participation in Town Hall. Public Forum begins at 6:30 p.m.
Questions?
Do you have Town-related questions you would like answered? If so, please send them to Angela Murphy at info@townofmontreat.org and we will get back to you as soon as possible.
Stay well and have a great weekend