Montreat Minute for July 31, 2020
American Chestnut Trees Return to Montreat!
More than a century ago, the American chestnut tree dominated the eastern US landscape. Nearly four billion chestnuts grew tall, fast and strong. The wood was rot-resistant, straight grained, and extremely suitable for building– everything from house framing to furniture. In fact, Graham Chapel in Gaither Hall is completely trimmed in American chestnut. Their fruit, the chestnut, was popular with humans to eat and as a cash crop and animals, both wild and domestic, thrived on the nuts. However, a chestnut blight decimated the tree population. The four billion trees, which had survived adversaries for millions of years, disappeared in a mere 40 years.
Years later, The American Chestnut Foundation (TACF), headquartered in Asheville, was founded for the purpose of developing a blight resistant American chestnut tree and to restore the tree to native forests. They are making excellent progress in their quest.
During the planning phase of the Town Hall, those involved discussed integrating American chestnut trees into the landscape plan, if possible. Landscape architect and native species expert, Joel Osgood, contacted the TACF, who agreed to donate four hybrid American chestnut tree seedlings to the Town to be planted at the new Town Hall. This week, the seedlings were delivered by Lisa Thomson, TACF President and CEO. Public Works staff members Barry Creasman and Daniel Wiggs accepted the trees. Both Barry and Daniel are certified arborists and will nurture the trees until planting time in the fall and thereafter. It is our hope that this will be the first step in re-integrating the American chestnut to both Montreat and the WNC mountains. We are grateful to the TACF for entrusting Montreat with such a legacy.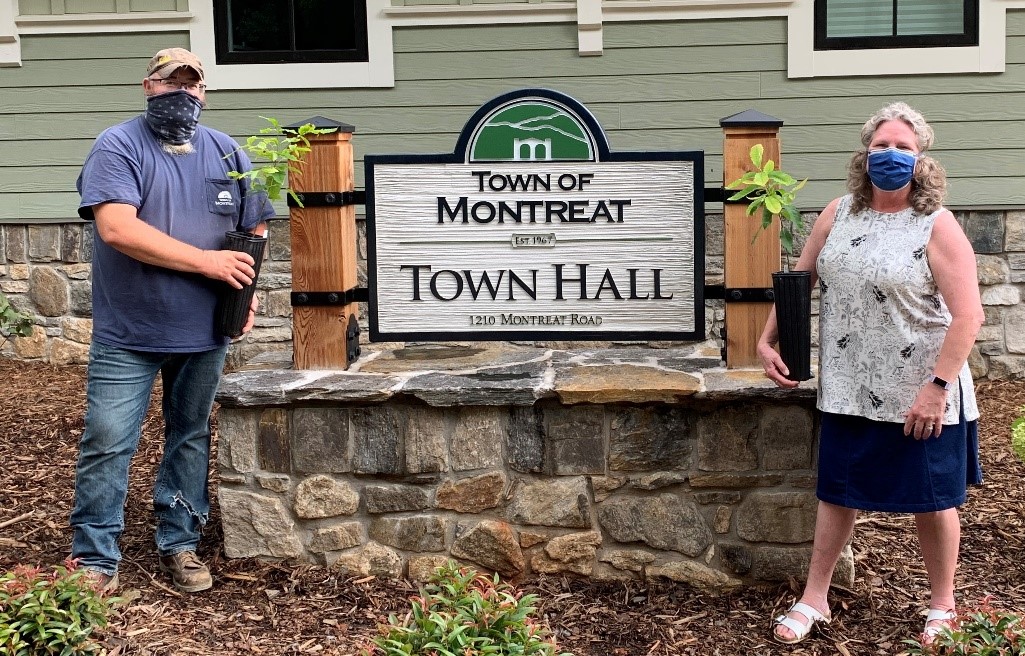 Cottager Directory/Wearables Sales Extended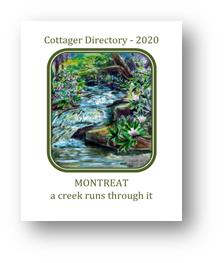 Due to popular demand, The Committee and volunteers will continue to sell directories from 9:30 – noon on Wednesdays, Thursdays, and Fridays at the Montreat Post Office August 5-7 and August 12-14.  Directories are $25.00 a copy. A check made payable to Montreat Cottagers' Inc. or exact change will be appreciated. Sorry, no credit cards. Social distancing, wearing masks, using hand sanitizer and other precautions will be employed as prescribed by the governor. Follow the signs.
If you are unable to order in person, send an order to:
Montreat Cottagers', Inc
PO Box 111
Montreat, NC 28757
ATTN: Directory Committee
Include the number of copies you would like; whether or not you will be able to pick-up your order in person or need to have it shipped; and a check in the exact amount. If your order is to be shipped, please include your address and phone number.
Also Extended: the committee will continue accepting pre-orders only for tee-shirts, sweatshirts and aprons! Tee-shirts are available in short sleeve ($25.00) and long sleeve ($30.00) styles; sweatshirts are $40.00; and aprons are $30.00. Colors are limited due to availability of our supplier. Shipping is available for an additional cost. Stop by the PO to take a look at our samples and place your order!
Many thanks to the Directory team for their hard work. The team includes Beth Barker, Meredith Greene, Laurie Morgan, Grace Nichols and Ann Vinson. Well done!
Grace Period for Water Shut-Offs Ends
Beginning yesterday, July 30, Montreat water customers will be notified if they are sixty days past due on their water bills. A second letter will be sent if the customer is more than ninety days past due, notifying them that their service will be shut off in fifteen days unless payment is received. Any Montreater who is behind on water bills is encouraged to contact the Town Administrator (828-669-8002, x5) in order to work out a payment plan and avoid water shut offs.
Planning and Zoning Meeting Tuesday, August 11
The Planning & Zoning Commission will meet Tuesday, August 11 at 10:30am via Zoom. The Commission is winding up their year long review of the Town's Zoning Ordinances. The agenda and meeting instructions will be available next week online.
The Town Council is extremely grateful to the P&Z Commission for their steadfast work in reviewing and recommending changes on the Ordinances.
Other Important Information
A reminder that COVID-19 restrictions are still in effect here in Montreat. Staff and Town Council urge residents and guests to social distance and wear masks when social distancing is not possible.
The Town Hall remains closed to the public. Staff are working in the building and may be reached by calling 828-669-8002. Green and blue Town trash bags are available by calling before picking up at the Town Hall. Water bills may be paid by dropping payment in the drive-by payment box adjacent to the new Town Hall driveway by the pocket park.
Dog owners: please remember that Town Ordinances require dogs to be on leashes when walking. Also, please remember to bring bags to clean up waste when walking.
Questions?
Do you have Town-related questions you would like answered? If so, please send them to Angela Murphy at info@townofmontreat.org and we will get back to you as soon as possible.
Stay well and stay safe.