Montreat Minute June 26, 2020
New COVID-19 Restrictions in North Carolina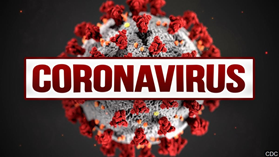 NC Governor Roy Cooper announced new restrictions Wednesday afternoon affecting all of us. Originally June 26 was scheduled to be the day to begin Phase 3 of reduced restrictions. But due to a significant spike in COVID-19 related infections in the state, the Governor has delayed Phase 3 until at least July 17. Additionally, everyone is required to wear face masks when out in public as of 5:00pm today.
The mask mandate applies to people who are within 6 feet of non-family members and applies indoors and outdoors to everyone 12 and over. Exemptions include those with health issues that a mask could affect. Previously, masks were recommended but not mandated. Group gatherings are still limited to 10 indoors and 25 outdoors.
Town Hall is Officially Ours!

On Tuesday afternoon, Town Building Inspector Dan Cordell approved a Certificate of Occupancy for the new Town Hall, making it officially ours and ready for move in. Staff has been busy moving furnishings and files into the new building. New furniture and other furnishings will be delivered next Wednesday. The staff's first official day in the new building will be Thursday, July 2.
Many have asked what will become of the old Town Services offices. The Town has a 100 year lease (for a penny a year!) from MRA for the building. It will continue to be used for the water system controls and general storage. No one will be housed in the building.
We are grateful to architect Maury Hurt and contractor Brian Sineath and his team from Sineath Construction for completing the building ahead of schedule and on budget. We are also extremely grateful to Montreat resident Rick Giles who served as our Owner's Representative, being the liaison between the Town and the contractor. He saved the Town untold time and funds due to his attention to detail and expertise.
Come to the July 4th Town Hall Open House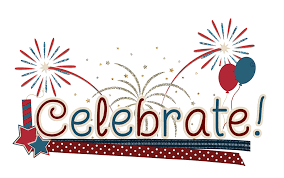 To celebrate our new Town Hall, there will be an Open House tour for everyone on July 4th. Self-guided tours will be available from 10:00am to 1:00pm, with a flag raising ceremony at 9:45. Due to pandemic regulations, social distancing precautions will be taken with a proscribed tour route, adequate distance between visitors, and mandatory masks. We will provide a tour route map with details about the building and its furnishings. Town Commissioners will provide safe-distanced commentary in the building and park. Tours will include the interior and the exterior pocket park and rain garden. Dedication ceremonies are being delayed pending easing of COVID-19 gathering restrictions. Come and see your new Town Hall!
We Still Need Your Photos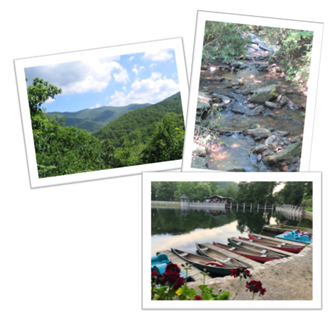 We are preparing a special Montreat photo presentation for the new Town Hall and we need your photos. We will have two special presentations on the video screens. One will be Montreat scenes like the ones above. The other will be Montreat activities, like rock hopping, Fourth of July parade, square dancing, and other typical "Montreat" activities.
We have received many wonderful photos. If you haven't sent yours, please send them to [email protected]. By sending your photos, you are giving us permission to use them in a slide presentation for the new Town Hall.
Send us your favorite Montreat scenes as well as Montreat activities. We need them by July1, so send them today!
Cottager Directory 2020 Pre-Orders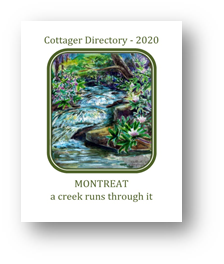 The 2020 Cottager Directory is at the printer and expected the week after the 4th. Stop by the gate July 1-3 from 9:00am to 1:00pm. Volunteers will help you pre-order a copy; OR stop by on July 4 from 9:00am to 2:00pm after you have toured the Town Hall. Directories will be $25.00 a copy. Shipping will be available for an additional $5.00 per copy. Payment will reserve a copy or copies. A check or exact change will be appreciated. No credit cards. We will be practicing social distancing, wearing masks, using hand sanitizer and other precautions as proscribed by the governor. Follow the signs. Stop by to see us and pre-order your copies.
If you are unable to order in person, send an order to:
Montreat Cottagers', Inc
PO Box 111
Montreat, NC 28757
ATTN: Directory Committee
Include the number of copies you would like; whether or not you will be able to pick-up your order in person or need to have it shipped; and a check in the exact amount. If your order is to be shipped, please include your address and phone number.
Meet Kent Otto, Montreat Town Commissioner
Each month we feature a Montreat staff member or Board of Commission member. This month we are featuring Commissioner Kent Otto.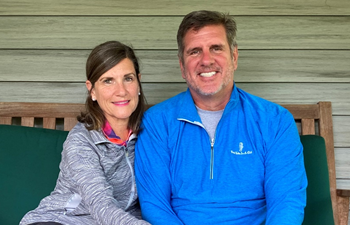 Nickie and Kent on their Tennessee Road porch
The well known saying "The Mountains are Calling", was true for Raleigh native Kent Otto. That's because his true love lived in Montreat and he wanted to be near her. But since those early college days, Kent has fallen in love with Montreat and the mountains.
Born and raised in Raleigh, Kent left there after high school for Appalachian State University where he met his future bride, Nickie Brem. They dated for three years in Boone, coming to Montreat periodically to visit with Nickie's family. After graduation, they both landed jobs in Raleigh and continued to date for another four years before marrying. One thing he is not is impulsive! They welcomed babies Luke (now 25) and Anna (now 21) and raised them in Raleigh. Kent worked as a produce broker- someone who acts as a middle man between vegetable and fruit growers/suppliers and the retail or commercial customer.
In 2007, they found the Mountains calling them. They sold their Raleigh house, packed up, and became Montreat residents. Kent was able to "move" his job and opened a Western NC office for his firm. Kent has been in the produce business now with the same company for 35 years!
When not selling apples, oranges and kiwi fruit, Kent can generally be found outdoors. Whether it is taking very early morning walks with his English Springer Spaniel, Cooper, riding his bike or motorcycle, or just enjoying the outdoors, Kent loves the mountains. For a long time, Kent rode bicycles on the winding mountain roads. Route 9 down to Lake Lure was a favorite "jaunt" for Kent. In fact, he has participated in more than 50 triathlon sprints and half Iron Man competitions. Nickie finally told him the winding roads were too dangerous for a father of two, so he found other interests. Basketball has been a passion of Kent's since a youth. So, it wasn't unusual that Kent wandered onto the Montreat College basketball court and volunteered to coach the men's team. The head coach joyfully welcomed Kent as an assistant coach, a volunteer job he has held now for 11 years. It is very time consuming during the season, but Kent finds it extremely rewarding. He particularly enjoys the relationships he is able to establish with the players. They are a diverse group, literally from around the world. He enjoys coaching and mentoring them. They must appreciate it too as dozens of former players stay in regular contact with him.
Kent's foray into politics began in 2015. He and Nickie had been very invested in the community- attending church here, being on MRA's President's Council, coaching basketball at the College, and other activities. The opportunity arose for Kent to be nominated to fill Tim Helms' unexpired term on Town Council when Tim was elected Mayor. Kent agreed to the nomination and was elected to the seat by the Town Council. The term expired in 2017. Kent ran for the position and was elected. He was elected Mayor Pro Tem (Vice Mayor) in 2019. When asked how he likes serving on the Council, Kent exclaimed, "It's wonderful! I enjoy serving the community and getting to know neighbors." He feels good about what the Council has accomplished, but is a bit surprised at how slow government is, especially as compared to private industry. In looking into the future, Kent stated, "I really appreciate the relationships between the three entities (Town, MRA, College) and hope they continue to strengthen. Montreat has been blessing people for many generations and I hope we continue to be that place of blessing."
What's a perfect Friday night for Kent and Nickie? "Coming home and taking a bike ride together and having some 1 on 1 time to catch up. Then having a meal with some friends, and early to bed." The early bedtime is because he is an early riser, heading out for early morning mountain hikes with his trusty companion, Cooper.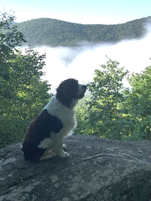 Cooper taking a break on a recent early morning Montreat hike
Other Important Information
The Planning & Zoning Commission is meeting every Tuesday for the foreseeable future virtually via Zoom. The Commission is intent upon completing its review of and recommendations for Town ordinances in the coming weeks. Instructions to join the June 30 meeting can be found on the website by CLICKING HERE. The agenda and packet are available by CLICKING HERE.
Just a reminder that due to cancellation of June conferences and the expected decrease in rentals and other programming, there will be no Friday sanitation pickup. If it appears that we need to go to two days per week, we will make it happen. Pick up will remain on Mondays as usual.
Another reminder: mark your calendars for the Bulk Items/White Goods curbside pick up on Tuesday, July 7th. There will be another pick up day in October.
The Town staff will not be working on Friday, July 3, in celebration of July 4th.
Questions?
Do you have Town-related questions you would like answered? If so, please send them to Angela Murphy at [email protected] and we will get back to you as soon as possible.
Have a safe weekend and stay distanced!