"When do I need a Building Permit?"
Town staff often receive the above question regarding building permits. So, here's a quick primer on when a building permit is needed. You need a building permit if:
You are expanding the footprint of your existing dwelling
You are seeking a zoning variance
You are making structural repairs or improvements
You are making foundation repairs
You are building a new roof, repairing or reroofing an existing roof
You are doing any plumbing work beyond unclogging a toilet or sink
You are doing any electrical work that requires a licensed electrician
You are installing a new water heater
You are installing new or additional gas lines
If your project involves any of the above and your contractor says, "You don't need a building permit", find a new contractor! Building codes, which are established by state statute, are in place to protect homeowners. The Town's Building Inspector, Dan Cordell, is your advocate to ensure the work is done correctly and meets code.
Building permit applications are available on the Town website under "Forms" or at the Town Hall. Typically, permit applications can be approved within one business day. All this may sound like government over-control, but the State established building statutes for your protection. Questions? Please call Angie Murphy at 828/669-8002, x1.
---
Judge Issues Written Order on MRA Lodge/Hotel Issue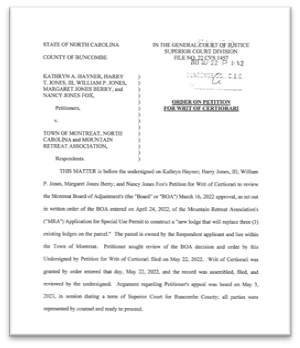 Recently the Town received the written order (a legal explanation) of Superior Court Judge Peter Knight's reasoning for reversing the Montreat Board of Adjustment's decision to grant MRA permission to build a Lodge on their Assembly Drive/Collegiate Circle property.
The written order finalizes a process begun in the Spring of 2022 when two parties, the Jones family and Kate Hayner, appealed the Board's January 2022 decision to grant the Special Use Permit for construction. In May 2023, Judge Knight, after hearing testimony and reviewing records, reversed the Board's decision, meaning MRA would not be allowed to build the lodge/hotel per the plans they submitted. The written order requires that the Board of Adjustment revoke the Special Use Permit that was granted, which they will do at their next meeting.
To review the Judge's written order, CLICK HERE.
---
Town Council Meeting October 12 at 7:00pm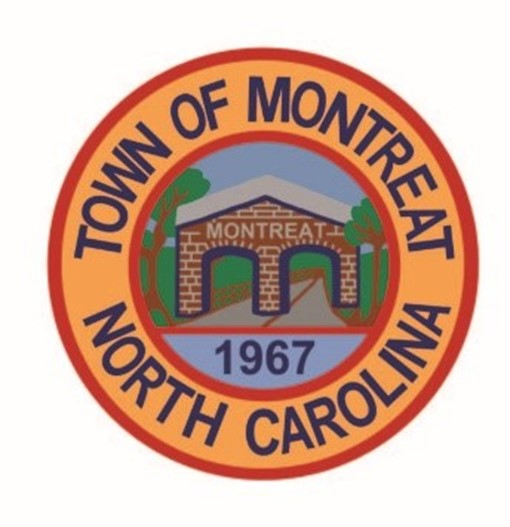 The Montreat Town Council will meet for its monthly meeting next Thursday, October 12th, at 7:00pm in the Town Hall Community Room. For a copy of the agenda, CLICK HERE. The meeting will be live streamed and recorded. For information about streaming the meeting, CLICK HERE. The Public Forum will begin at 6:30pm. All are invited to attend and participate.
---
We Still Want Your Opinion!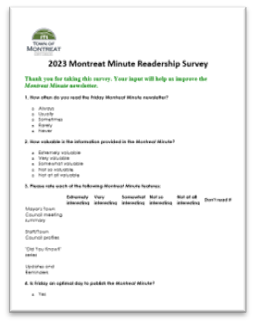 Thanks to the many people who have completed the readership survey for the Montreat Minute. But, we would still like to hear from other readers. Five years ago, Town Staff and the Town Council began publishing the Montreat Minute every Friday to keep residents and friends informed of Town happenings. Now we would like to hear from you as to how you like the Montreat Minute and how it can be improved.
Please take three minutes (honestly, that's all it takes!) to complete the nine question survey. In turn, we will collect the results and report the results back in a future Montreat Minute. Now is your chance to give us ideas and suggestions. To take the survey, CLICK HERE.
---
A New Pumpkin Record!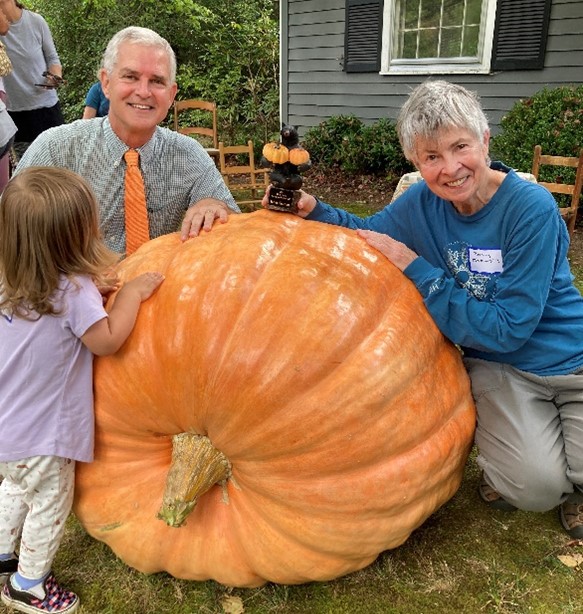 As many know, Montreater Walter Somerville set a goal when he was 10 to grow a 100 pound pumpkin. Last year, he achieved (actually, over achieved) his goal by growing a 314 pound pumpkin. Walter, never to be outdone even by himself, set out in the spring to break his own record. And break it he did!
As neighbors and friends gathered for the special "weigh in" last weekend, they made their guesses as to the giant pumpkin's weight. After all entries were in, everyone cheered Walter's pumpkin, Janice, who weighed in at a whopping 508 pounds! The closest guesser, without going over, was Sally Stansill, who lives across the street from the Somervilles. Sally received a very appropriate trophy of a bear holding two pumpkins, which she will treasure for years to come.
What can we expect from Walter next year? Stay tuned.
---
Updates and Reminders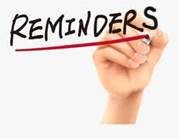 Don't forget "Made in Montreat", Montreat's own craft show and sale, on Saturday, October 14th in the Moore Center. More information next week.
Save the date of Thursday, October 19th at 4:30pm for the 2023 Legislative Update from State Representative Eric Ager. More information next week.
Do you receive your own copy of the Montreat Minute or know someone who doesn't? Sign up for the Sunshine List to receive the Montreat Minute and stay "in the know" about the Town's happenings. CLICK HERE to sign up for the list!

Questions or Comments?
Do you have Town-related questions or comments to offer? If so, please send them to Angie Murphy at [email protected] and we will get back to you as soon as possible.
Have a great weekend!